HDFC Life provides a variety of Health Insurance Plans & Mediclaim Policies that offer financial security to meet health related contingencies. Due to changing lifestyles, health issues have not just escalated, they have increasingly become more complex in nature. It becomes imperative therefore to have a health insurance plan in place, thus your financial planning is incomplete if you have not accounted for health.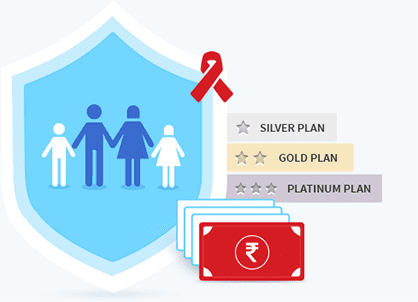 Features
HDFC Life Cancer Care offers lump sum benefit on detection of Early and Major cancer
3 plan options to choose from – Silver, Gold and Platinum
Regular income for 5 years only under Platinum option
Waiver of Premium Benefit in case of diagnosis of Early Stage Cancer
Simplified issuance process without medicals**
Avail tax benefits under section 80D of the Income Tax Act 1961*

* Tax benefits are subject to change as per tax laws**Based on a Short Medical Questionnaire (SMQ)
EXCLUSIONS
No benefit shall be payable under the policy in respect of any Major Cancer, Carcinoma-in-situ or Early Stage Cancer resulting directly or indirectly from or caused or contributed by (in whole or in part) :
Sexually Transmitted Diseases AIDS or HIV.
Any congenital conditions
Any pre-existing condition
Intoxication by alcohol or narcotics or voluntarily taking or using any drug, medication or sedative unless it is an "over the counter" drug, medication or sedative taken according to package directions;
Nuclear, biological or chemical contamination (NBC),
The policy shall terminate and no benefit shall be payable under the policy if the
Diagnosis or
Signs or symptoms (related to the diagnosed cancer) first occurred during the waiting period.
Please refer to product brochure for detailed benefits.